O land, O land, O land, hear the word of the Lord (taken from Jeremiah 22:29)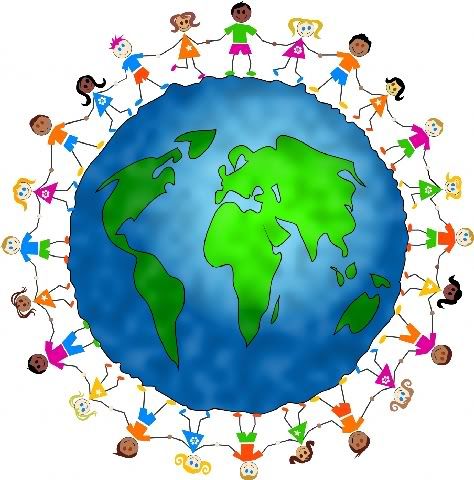 2 Chronicles 7:14 If my people, who are called by my name, will humble themselves and pray and seek my face and turn from their wicked ways, then will I hear from heaven and will forgive their sin and will heal their land (NIV).
A member of our church was out shopping earlier this week and kept having the phrase "the devil is in the detail" running through her head whilst she was at the checkout at the supermarket. She felt very strongly that she should go sit and read a newspaper, so went and had a cup of coffee and took the only newspaper that was in the rack, The Independent.
It was as if God was directing her thoughts and her eyes as after reading one or two articles, she was told to "keep going, keep going". She carried on reading and then on page 9 of the newspaper came across an article on the Copenhagen global climate summit which will take place 7-18 December 2009. The article was headed "Bureaucrats clash on shape of climate deal" but what really caught her eye was the by line:
"The devil is in the detail ahead of next month's summit, as representatives of 192 countries struggle to reconcile their often conflicting priorities. Michael McCarthy reports"
**********************
Genesis 2:15 (NIV) The Lord God took the man and put him in the Garden of Eden to work it and take care of it
From the time the earth was created, it has been man's responsibility to work the earth and take care of it. There has been a great deal of concern in recent years about carbon emissions and the effect these are having on the atmosphere. The fourth report of the UN's Intergovernmental Panel on Climate Change was published in early 2007 and this said that there is no longer any doubt that the earth is warming, and that there is a 90% chance this is caused by man. If this continues, then according to the report, the global average temperature could rise by as much as 4C (or even in the extreme case, 6C) by 2100, which would, in effect, make human life on Earth impossible.
In 1997, an internationally binding treaty, the Kyoto Protocol, was signed by 184 countries and subsequently ratified by them all. This treaty commits the rich industrialised nations to quantified cuts in their carbon emissions by a given date, and it is legally binding in international terms. The USA also signed the Protocol but has not ratified it, since President George W Bush withdrew the USA from Kyoto in 2001 as his administration considered it gave an unfair advantage to China.
Kyoto did not go far enough, however, as the cuts are insufficient to reduce the anticipated global warming and unless the agreement is renewed, it will run out by 31 December 2012. At a subsequent UN climate conference held in Bali in December 2007, it was agreed to negotiate a renewal of the Kyoto Protocol to give a "second commitment period" for member states to undertake emissions cuts, from 2013. It also agreed to work towards a wholly new climate treaty, which would:
○ involve the US;
○ oblige China, India and the other developing countries to cut their own emissions;
○ compensate the developing countries for doing this; and
○ set a very ambitious level of new medium-term targets for the rich countries, in an attempt to hold the warming to below the danger threshold of C above the pre-industrial level.
The EU, including Britain, want to have a new treaty based on the Bali action plan which would be legally binding and with a compliance mechanism and international rules for carbon accounting. The USA, however, wants nothing to do with Kyoto or its architecture. It has put forward a wholly new model for a climate deal in which countries would set out what they are going to do without being bound by international compliance regimes, or international carbon accounting. The developing countries, collectively known as the G77+China, are insistent that the Kyoto Protocol be renewed, and its rich country member states sign up for new emissions cuts from 2013 onwards . Three potentially opposing viewpoints. Any deal on carbon emissions and funding for developing countries to enable them to cope with the changing climate needs to be both strong and fair. Bureaucratic detail should be the last thing that prevents an agreement to save the planet from climate change.
For more details, see:
http://www.independent.co.uk/environment/climate-change/bureaucrats-clash-on-shape-of-climate-deal-1817259.html
And
http://www.independent.co.uk/environment/climate-change/britain-rules-out-climate-treaty-at-summit-1815728.html
**********************
God made the world for us, chose us before He even created the world and all that is in it so that we should be holy and without blame before Him in love:
Ephesians 1:4
For he chose us in him before the creation of the world to be holy and blameless in his sight (NIV).
Long before he laid down earth's foundations, he had us in mind, had settled on us as the focus of his love, to be made whole and holy by his love (The Message).
His deep desire for a people to love came first. Then a world for them to live in was created. And with the world He gave us all that we needed: the night to rest, the day to wander, water to drink, seed bearing plants, fruit bearing trees, the sun, the moon and the stars, fish, birds, and animals. What an awesome testimony of His love for us.
We are called as Christians to care for others, to care for the world that God created, and yet here we are on the path to heating up the world so it is inhabitable for mankind. This is something that we as a church, as a body of believers, should pray about. We desperately need to turn to God, to seek His will, and ask for Him to move in this situation. We are destroying the very land that He gave us through our behaviour, our lack of regard for the environment, our disregard for others and our continued determination to make sure our own countries are not penalised in some way. We have raped and pillaged God's planet for long enough. This should not about the bottom line. We are all at fault here. We cannot point the finger at our governments, at the industrialised nations, at world powers, at our neighbours. We are all to blame.
There is very little time between now and the start of the summit on 7 December, so please, please pray about the summit, however you may be led. The devil is in the detail here, and he is at work creating havoc, causing the nations to disagree, creating disharmony and strife. There is a spirit of mischief at work, designed to sidetrack the summit and take the earth off course.
We need to pray that God will be at work in the leaders, politicians and civil servants taking part in the summit, that there will be a real spirit of harmony, a genuine desire to reach a compromise and reconciliation and not a spirit of territorialism, of protectionism as countries seek to do as little as possible so as to protect their foreign trade and their own industries and economies. We have a corporate need to humble ourselves and pray and seek God's face and turn from our wicked ways. Then He will hear from heaven, forgive our sin and heal our land.
But one church cannot do this on its own, it needs all churches, not just the church here in the UK, but the worldwide church. We have a God given mandate to look after the earth and all that is in it, so please, forward this email to your friends, family, brothers and sisters in Christ to mobilise the global church to prayer. We need to seek God's will here and ask for his Spirit to be at work before, during and after the summit. This prayer request needs to hit as many inboxes as possible in as many countries as possible in the next 24 days (at the time of writing) so that the church is actively seeking God's will on this matter and praying for all involved. The effective, fervent prayer of a righteous man avails much (James 5:16). Like the widow in Luke 18 who kept going to the judge for justice, we need to seek God's face. Now, will not God bring about justice for His elect who cry to Him day and night, and will He delay long over them? I tell you that He will bring about justice for them quickly. Luke 18:7-8 (NASB)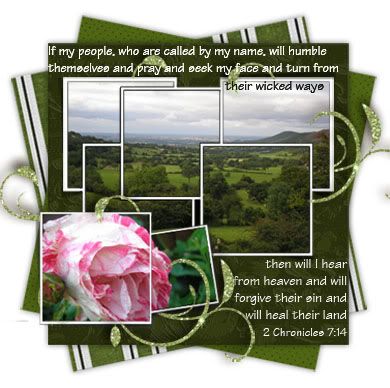 0 comments: