Where, oh, where, does the time go? It seems like only yesterday since I was posting photos of a gift box and card I had made but since then, months have gone by. I have been on holiday to Wales, visited my daughter in Plymouth, attended the Stampin' up! Creative Tour in Loughborough, been on a line dance weekend in Caernarfon and am now well into the tax return season and filing deadlines, yet again! My Dad has finished his chemo and is now slowly recovering from all the drugs they pumped into him and I am still fighting fires here at work as I bounce from one deadline to the next. I definitely think someone needs to organise me!!!

So, on the craft front, I will be at Meeting Point House in Telford tomorrow, wearing my Stampin' Up! hat (or ratyher, my SU! apron ;) ). If you are in the area, please do call in and see what everyone is getting up to. I need to finish off several times tonight ready to take with me tomorrow, so hopefully, the hours in today will stretch themselves out so I can get everything done!

I have actually made some hybrid items for The Digichick recently. Take a look at these notebook cards:


And how about this seed packet album:
Full details of how I made those are on The Hybrid Chick website. I am in the process of now making a calendar., trying to get a head start on my Christmas presents. I'm hoping to get this finished over the weekend, so will let you have a look at it then.
In the meantime, I have also just finished using a starter kit of Ariel 3-in-1 pods. This is a new product designed for your washing machine that holds the cleaning materials in three separate compartments, each cleansing material designed to do a separate job: one is for cleaning, one for removing stains and the final one for brightening the clothes. This is the box that arrived on my doorstep: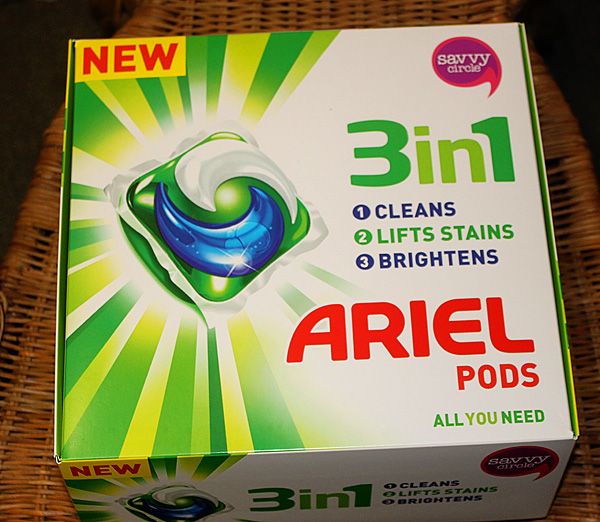 And take a look see what was inside:
Just look at how many pods they sent me!!!!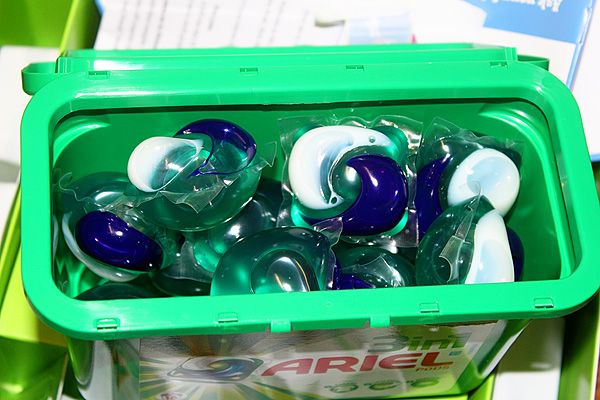 They smell absolutely gorgeous and the thing is, the smell lingers on the clothes long after they have been washed too! I must admit, I was not impressed with the green plastic box they came in though. Either I don't know my own strength, or the plastic is very flimsy as the first time I opened the box, I took the lid and part of the top of the box off!
I was very dubious about the alleged super duper cleaning ability though as past experience has shown that all washing powders are pretty much the same, but I was pleasantly surprised as these pods managed to get rid of some tea stains on some cream tea towels which most powders would have left behind. I am still finishing off the box but am very grateful to Ariel and Savvy Circle for giving me the chance to try these.
I will probably buy these myself in the future, depending, of course, on the price (I know, my middle name is scrooge!!!) but if you get chance to try these out, I would definitely have a go to see what you think of them. You just have to be careful not to let any damp get into the box as otherwise, the pods start to dissolve and you end up with liquid all over your hands....!!!!
Well, this was a slightly longer update than anticipated. I need to get back to sorting out payments to subcontractors for one client and adding up meal tickets for another in order to work out sales for the year. I lead such an exciting life!